Gram's Sasquatch Story
Gram's Sasquatch Story
The most beautiful thing we can experience is the mysterious. - Albert Einstein.
The History and Story Behind My Site...
My Grandmother would be very happy to know her experience with a Sasquatch has been documented and that her photos and special cake recipe are being shared and enjoyed around the world! I can envision her smiling eyes and see her dancing a jig!
Gram's story brought me much wonderment and awe throughout my life. With my early retirement came the time and need to tell of my Grandmother's experience with a Sasquatch beginning in 1959. This fulfilled a long time desire to document in written word her story, for my grandchildren as well as for those across the great divide that care to hear, and know.
While writing of her experience, something big happened and I couldn't seem to stop with just her story. I have been interviewing and documenting eyewitness accounts for many years now and found myself continuing on, asking for more and more. Opening up a door through which many came through to tell of their own very personal experiences as well. The collection grew and here we are. Her story, along with a huge collection of others most credible and intriguing eyewitness accounts and much more I present to you in this truly amazing book!
GRAM'S SASQUATCH CAKE
3 Eggs (Beat two minutes)
1 Cup Oil (For a richer taste use real butter, softened)
2 Cups Squash or Pumpkin (your choice)
1 Teaspoon Pumpkin Spice
2 Cups Sugar
3 Cups Flour
1 Teaspoon Salt
¼ Teaspoon Baking Powder
3 Teaspoons Baking Soda
3 Teaspoons Vanilla
1 Cup Nuts and 1 Cup Raisins or dried cranberries (I add all of them)
Mix well in your favorite large bowl. Lightly grease and flour a large Bundt cake pan or you can use 2 meat loaf pans, (Sasquatch prefers bundt pan as he eats cake like a donut). Bake at 325 till done - depends on pan and oven - approximately one hour for bundt pan, less for meat-loaf pans. Keep checking. (Push on top till cake springs back, use toothpick to check). Serve with coffee, milk or tea; enjoy with family and Sasquatch friends.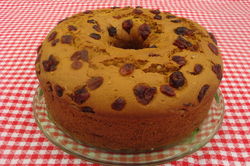 Send us your story!
I would love to hear your experience! Please feel welcome to relate your story or testimonial on my comment page. Or send to: bigfootstory@yahoo.com
My Contact Information